The CACC was proud to welcome the Australian High Commissioner to Canada, Her Excellency Natasha Smith, to boardroom briefings in Sydney and Melbourne to discuss the bilateral relationship between Australia and Canada, especially trade and investment.  She highlighted the key features of the Comprehensive and Progressive Agreement for Trans-Pacific Partnership (CPTPP) and its benefits for Australian and Canadian businesses.
Her Excellency said the connection between the two countries was strong and deep.  The first ever Canadian Trade Commissioner arrived in Sydney in 1895, and 2020 would mark 80 years of having High Commissioners in both countries.
PICTURED: H.E. Natasha Smith with Mike McGrath, Managing Partner CMO for PwC.
The bilateral trade and investment relationship is also strong and enduring.  But despite this, the CPTPP was the first full free trade agreement struck between the two counties.
"The CPTPP is the 'gold standard' of trade agreements," she said.
Quoting Jim Carr, the Canadian Minister of International Trade Diversification, Her Excellency described the trade agreement as a bridge that governments build and then it was up to individual businesses to use the bridge.
She said the CPTPP opened up new opportunities for businesses across the 11 countries that were part of the agreement.
"The agreement provides significant tariff reductions and eliminations that will benefit Australian businesses. Beef is a key example, within five years all tariffs on Australian beef into Canada will be eliminated and wine tariffs have already disappeared with ratification."
Her Excellency said one of the biggest advantages to the agreement was the freer flow of people between the countries to support business growth, through temporary entry commitments.
PICTURED: Jack Cowin – CACC Patron, Angela Bogdan – Consul General of Canada to Australia, H.E. Natasha Smith, Minh Dao – Co-Chair CACC Events Committee and Doug Carmichael – CACC President.
"I personally believe that one of the best outcomes of the trade agreement is the ability for talent to spend time in both Australia and Canada, through the reciprocated visa agreement."
"I also think one of the areas where Australian and Canadian companies could engage more is in the tech industry and the start-up sector.  For example, some of the work in Canada around AI and quantum technologies is really impressive," she said.
She said Canadian companies were going to Silicon Valley as start-ups and coming back as scale-ups, which was fuelling the tech sector in Canada.
"Biotech and fintech are two key sectors where we want more Canadian businesses to establish a presence in Australia. There are also significant investment opportunities in the agribusiness sector – as Canadian pension funds are already discovering."
"These sectors aren't what people automatically think of when they consider trade and investment between Canada and Australia.  Many people assume the relationship is in more traditional sectors – like agriculture, resources and mining. These remain important but are not the be all and end all of the connections and opportunities."
"So one of my challenges is to promote new areas of opportunity and to highlight the benefits of doing business, in both directions.  We also want Canadian companies to think of Australia as a launch pad into Asia."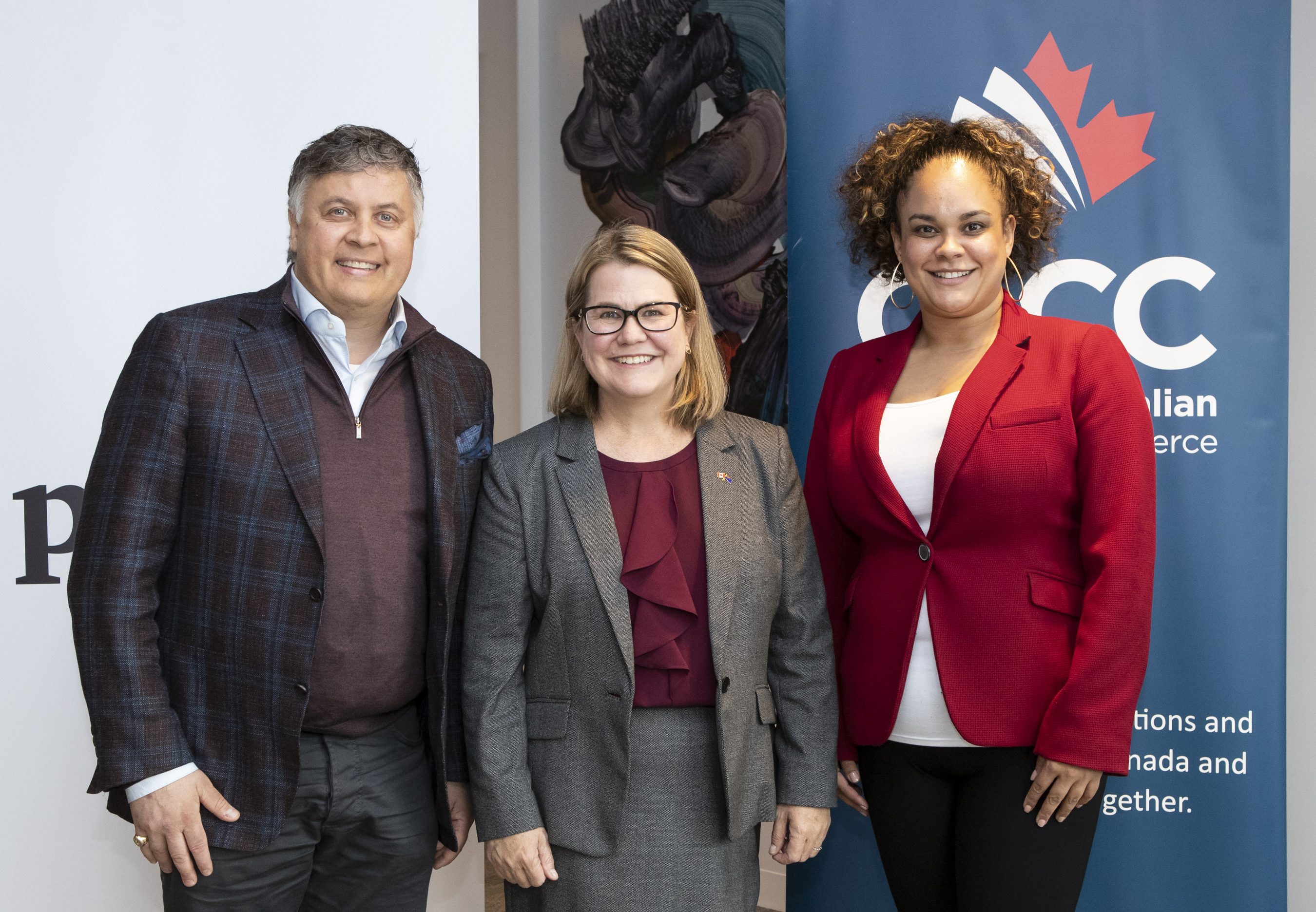 PICTURED: Mike McGrath – CACC Board Member, H.E. Natasha Smith and Melissa Wharton – CACC CEO.
On a personal level, Her Excellency said she was championing diversity issues.   This includes working with Canadian counterparts on indigenous issues, gender equality and Lesbian, Gay, Bisexual, Transgender and Intersex (LGBTI) rights.
"Indigenous economic development is a rich vein of opportunity for joint work, especially with the World Indigenous Business Forum being held in Vancouver later this year."
She said gender equality was a priority for both countries and both had made great strides.  But there was still work to do.
Her Excellency concluded by thanking the CACC for its role in strengthening business relations between the two countries.
"The relationship between Canada and Australia is important.  It has deep roots and a strong base but we need to continue to find ways to deepen and broaden where and how we work together.  As with any good relationship it takes constant attention and nurturing – we have to take care to never take it or each other for granted."
For more information, please visit the Department of Foreign Affairs and Trade's Free Trade Agreement Portal.
The Canadian Australian Chamber of Commerce (CACC) is a non-profit volunteer based organisation that aims to bring businesses together to facilitate strong economic and trade relationships between Canada and Australia.